Magnificent Europe onboard AmaPrima sailing from Budapest, 11 August 2018
Europe, River Cruise
River Cruises
14 nights
Fares from £3719 Fare includes 10% savings for booking made before 31 January 2018

The AmaWaterways ships are inspired by luxury yachts and designed specifically to maximise every aspect of your cruise experience.  You will notice the difference the minute you step on board and are welcomed in the beautiful lobby.  From then on, you will be treated to an array of unique and luxurious features as you journey along in your floating hotel.  relax and delight in stunning views in the spacious staterooms, many of which feature twin balconies, a French balcony and an outside balcony.  Enjoy exclusive amenities like massage services, a fitness room and a pool while onboard.  Indulge in award winning cuisine at a variety of dining venues, including The Chef's Table specialty restaurant.
Inspired by classic ocean yachts, the AmaPrima provides the most distinctive river cruise experience. A magnificent glass elevator is one of the unique design elements found onboard, as well as the exclusive "Twin Balconies". The beautifully-decorated and spacious accommodations range in size up to 300 sq. ft. Relax in a heated Sun Deck swimming pool with a "swim-up" bar; enjoy Chaîne des Rôtisseurs culinary creations. The ship also features a Fitness Center, Massage, Hair and Beauty salon; complimentary Internet access and first-run Hollywood movies; plus a fleet of bicycles to enhance your river cruise experience.
Included in the fares of AmaWaterways river cruises are
Shore excursions in every port of call with gentle, active or late riser tour options
Fine wine, beer and soft drinks with lunch and dinner
Sip & Sail daily Cocktail hour with complimentary wine, beers, spirits and soft drinks
Unlimited sparkling wine and fresh juice with breakfast
The Chef's Table specialty restaurant;
All on board dining in a variety or venues
Captain's Welcome Cocktail and Dinner
La Chaine des Rotisseurs exclusive dining experience
Luxury accommodation in a stateroom with window or balcony/twin balcony
Bottled water replenished daily
Internet access and Wi-Fi
Bicycles that you can use to explore on your own or join the guided bike tours
Sun deck pool with swim up bar and walking track
Fitness room
Main Lounge with panoramic windows and bar
Daily entertainment including cultural performances
An AmaWaterways river cruise is about more than the destination – it's the journey. We invite you to take one of our European river cruises,  and see the world in luxury and comfort. River cruising Europe with AmaWaterways is an excellent way to explore a destination. Discover local culture and sights on included tours, and then hop back on your luxurious river cruise ship and sail to the next stunning city or charming town.
Your cruise with AmaWaterways will be a luxurious experience from start to finish.  No matter how you choose to spend your time, you will have an unforgettable river cruise.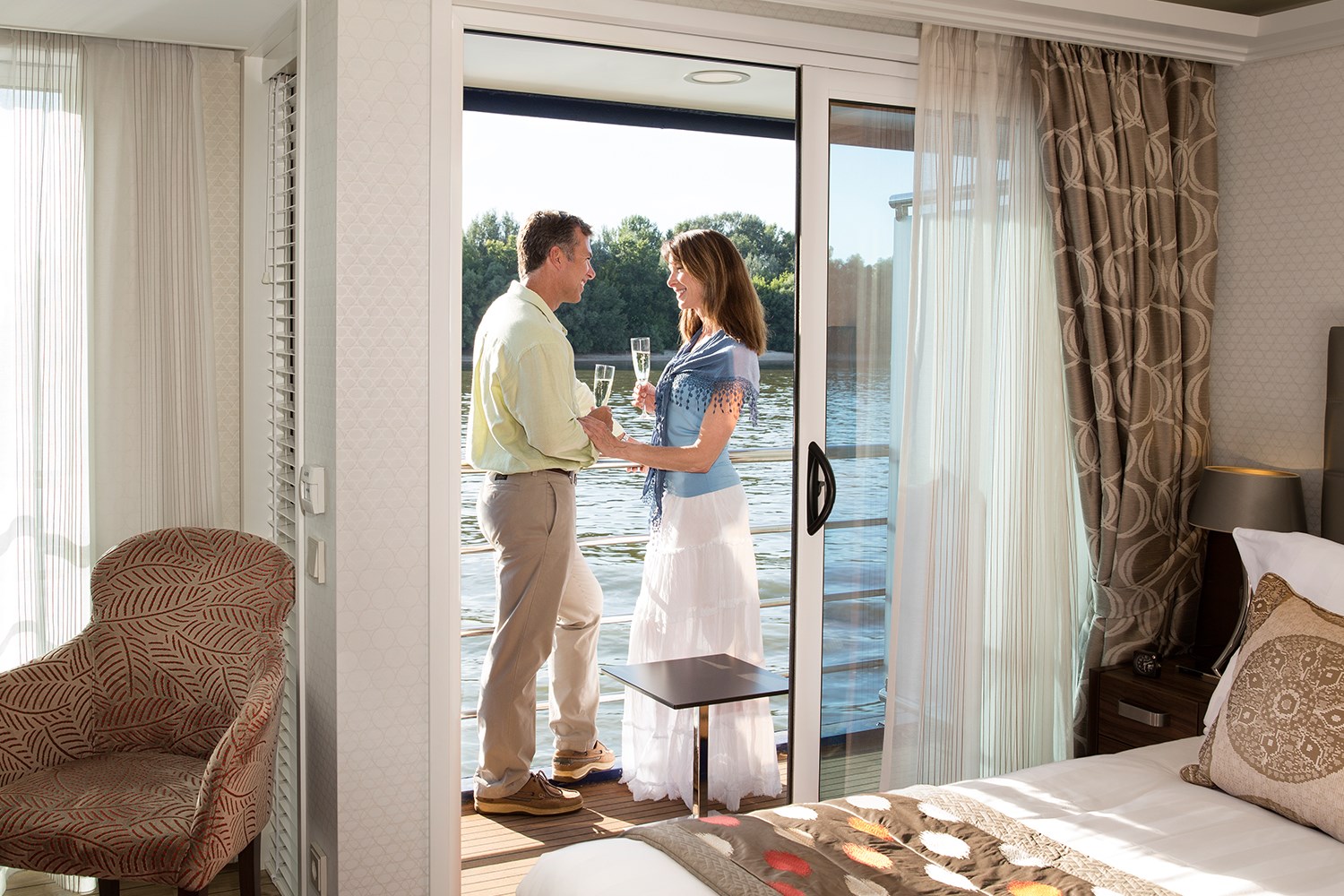 Twin Balconies – Enjoy panoramic views and plenty of fresh air in the lavish twin-balcony staterooms that feature both a French balcony and outside balcony.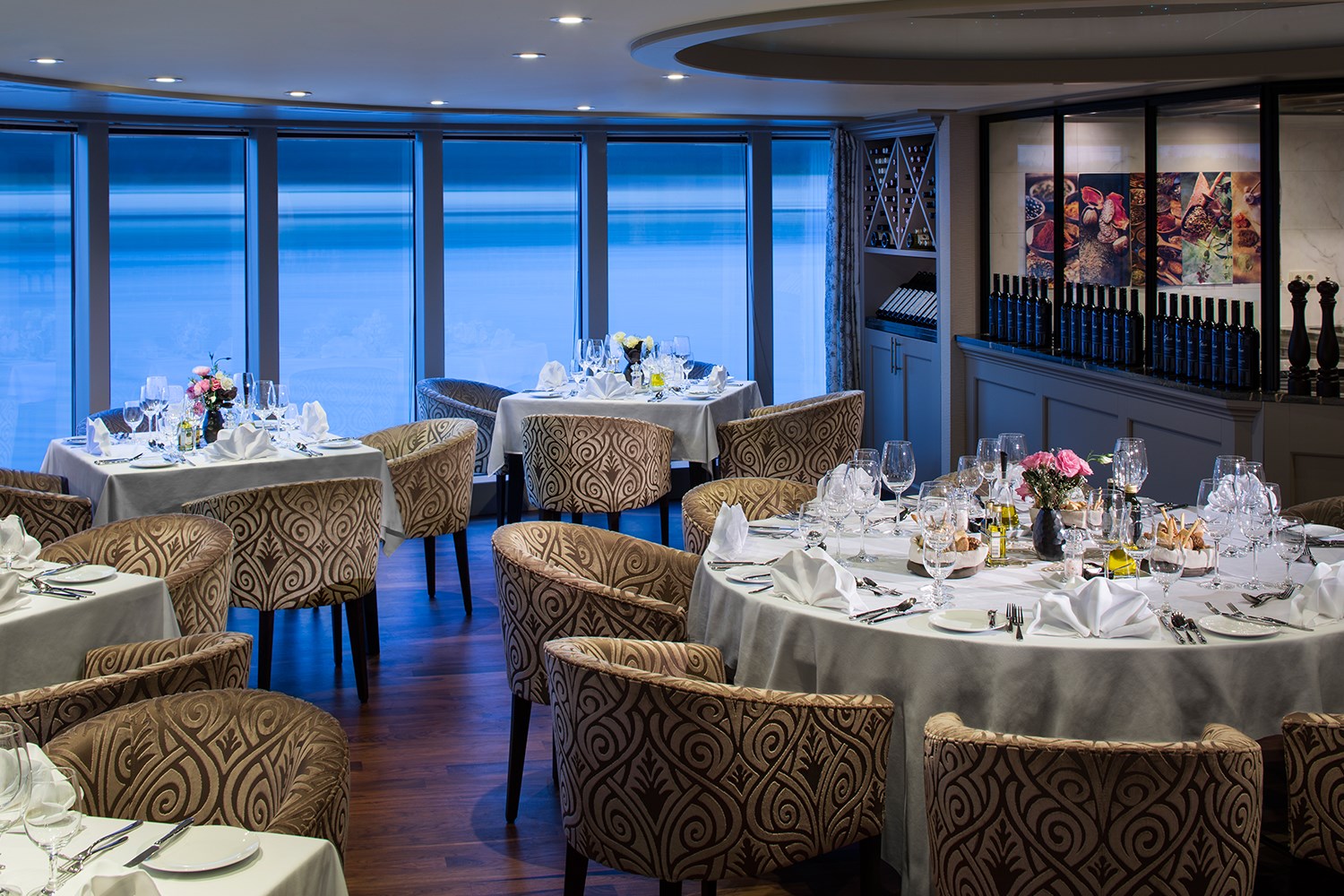 Award-Winning Dining – Savour exquisite cuisine at a variety of dining venues, like the Main Restaurant and The Chef's Table.  You can also order delicious tapas between meals in the Main Lounge.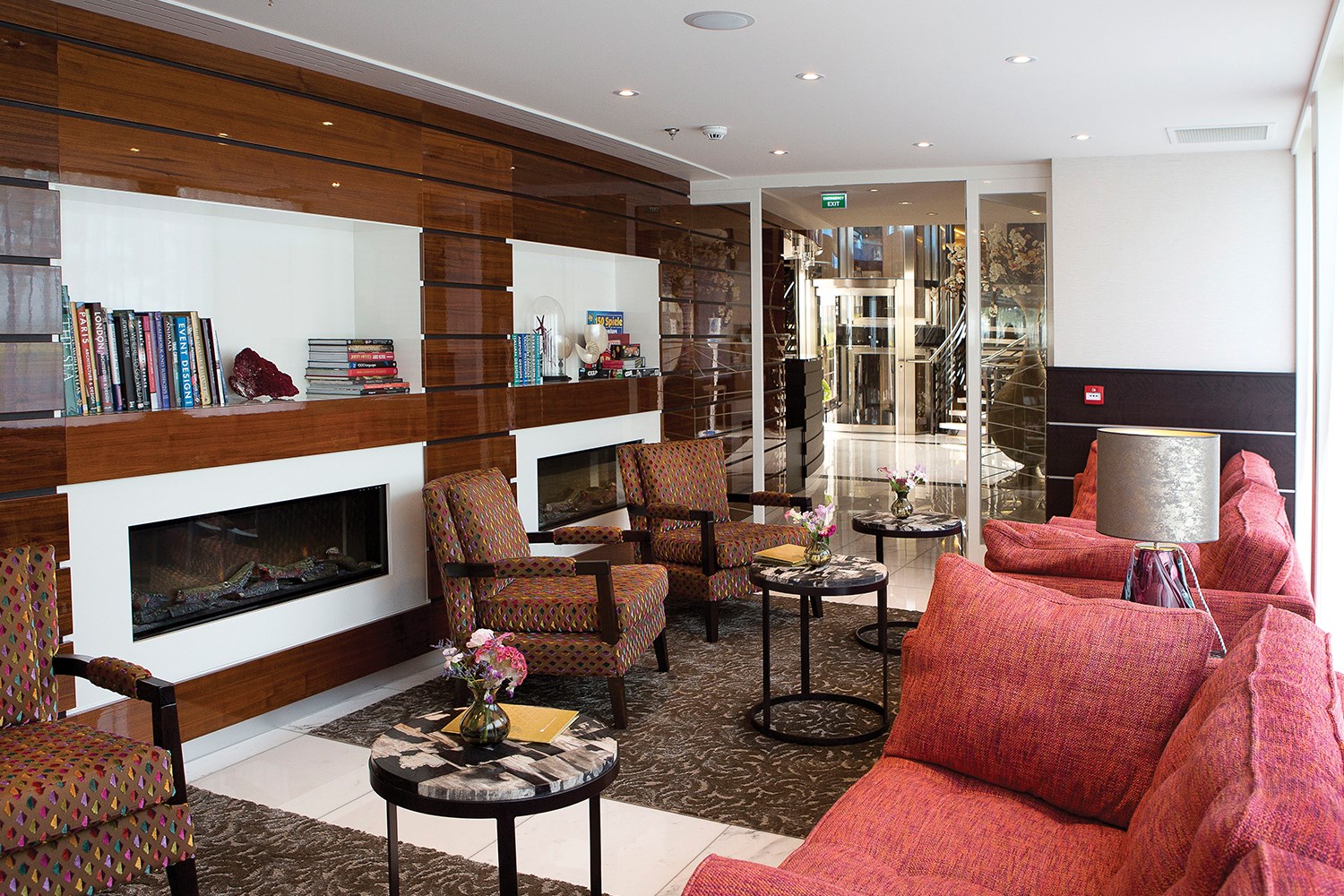 Public Spaces – With fewer passengers on board, guests can enjoy the luxury of space – AmaWaterways public areas, like lounges and restaurants, are never overcrowded.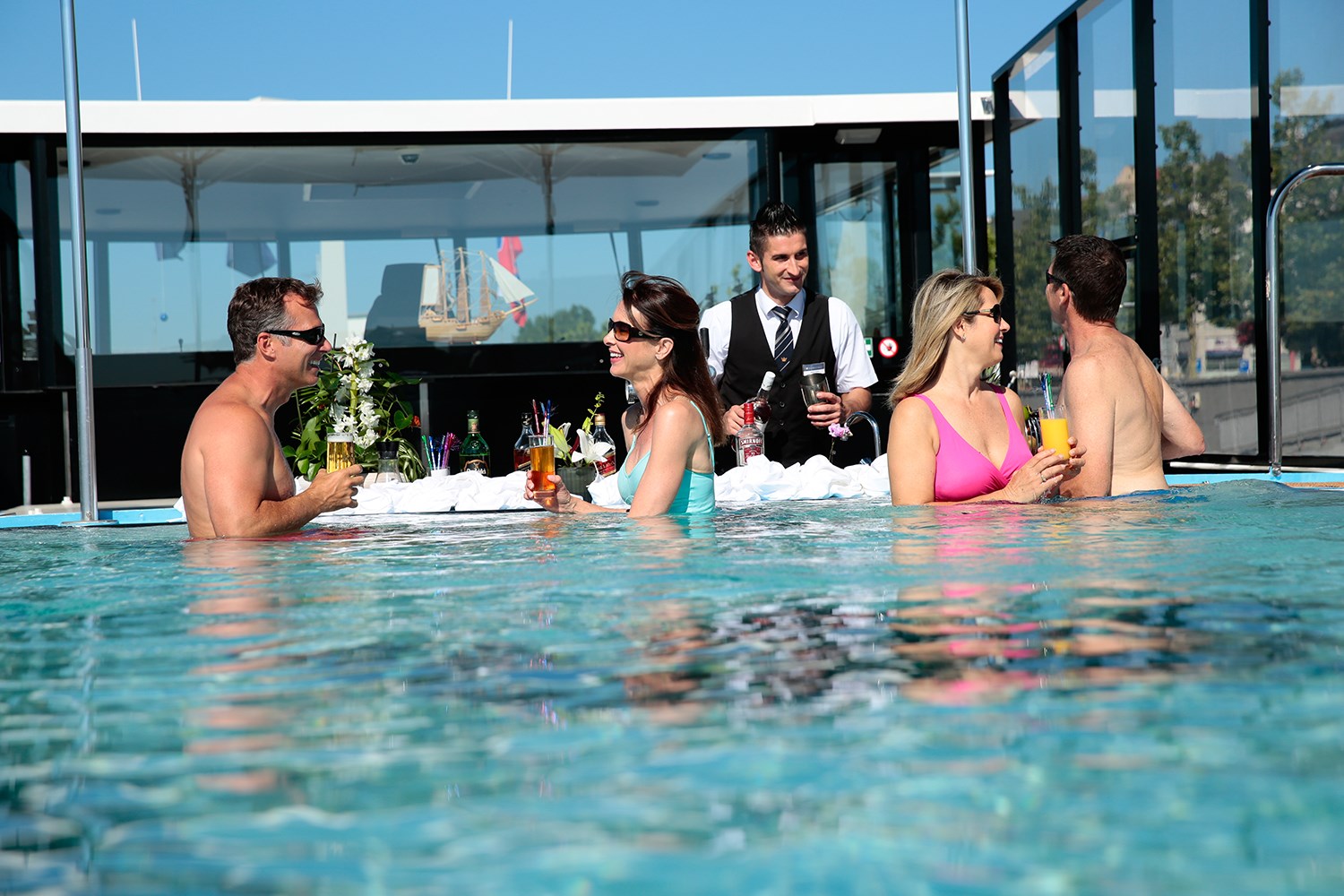 Sun Deck Pool – Soak up some rays or take a dip in the refreshing pool with a swim-up bar as you pass by centuries old castles, charming villages and other breathtaking scenery.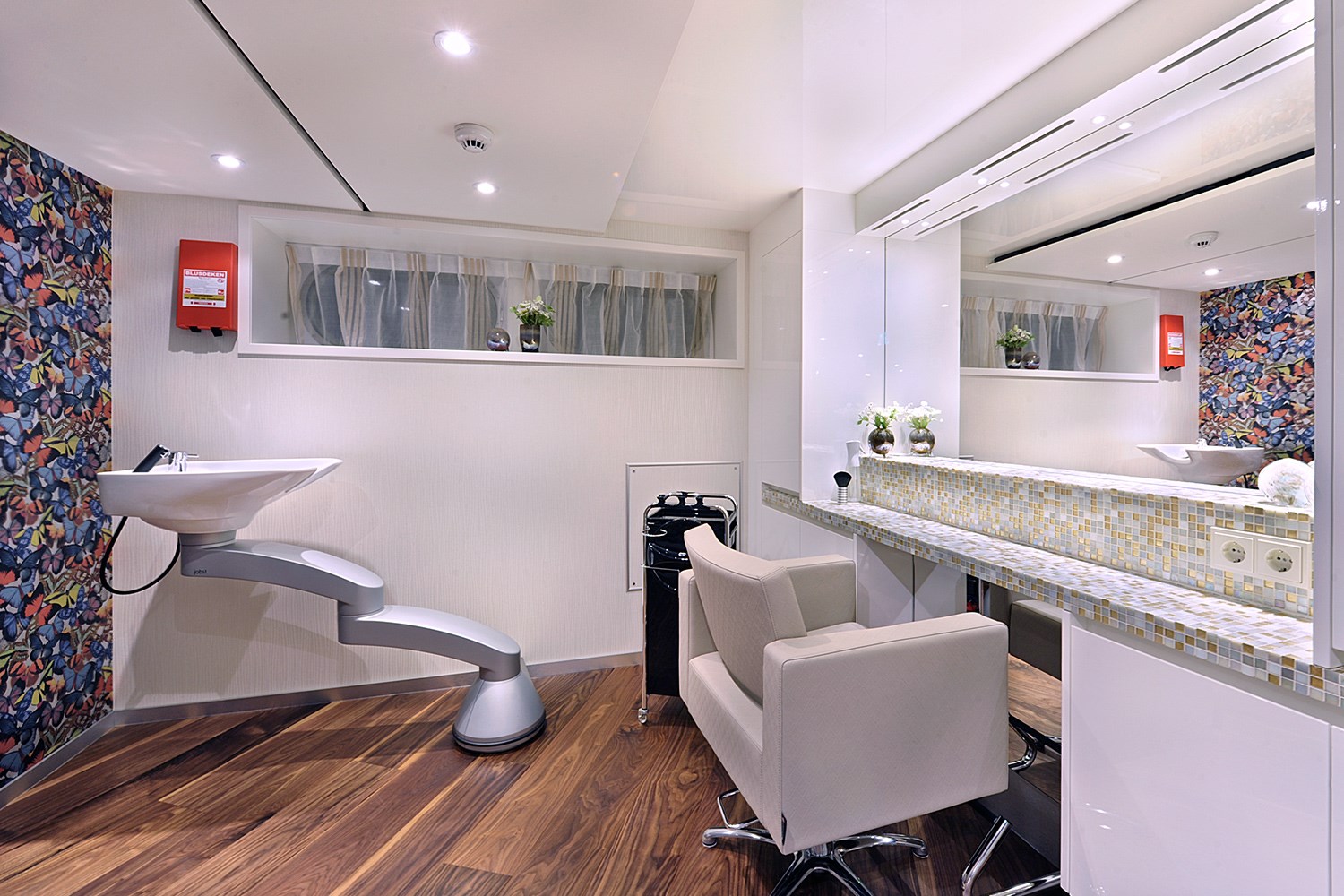 Massage Services and Hair Salon – After a marvelous day of immersive shore excursions, return to the ship and treat yourself to a bit or pampering with a smoothing massage.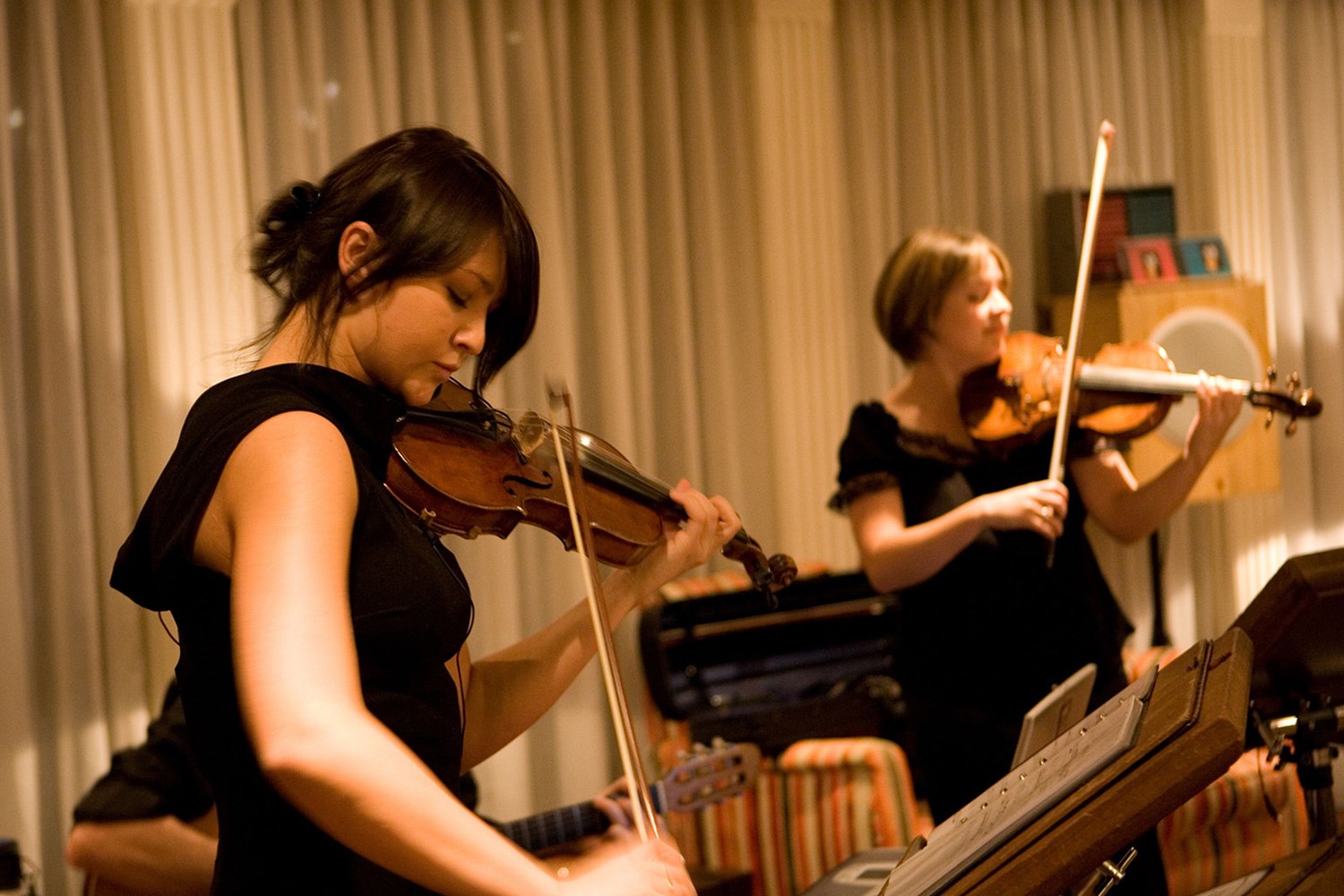 Entertainment – Whether it's traditional Bavarian music, a local quartet or modern piano favourites, there is an eclectic schedule of entertainment on board.
DAY 1
ARRIVE IN BUDAPEST, HUNGARY – EMBARKATION
Arrive in Budapest and embark your luxurious river cruise ship. This evening meet your fellow travelers at the Welcome Dinner. (D)
DAY 2
BUDAPEST, HUNGARY
This morning, your sightseeing tour takes you to historic Buda Castle, which offers a splendid view of Buda and Pest spread over both banks of the river. Your tour also includes the Fisherman's Bastion, the Royal Palace and St. Stephen's Basilica. Tonight, the ship departs for Bratislavia after a special "Illuminations Cruise" past the city's stunning river front. (B,L,D)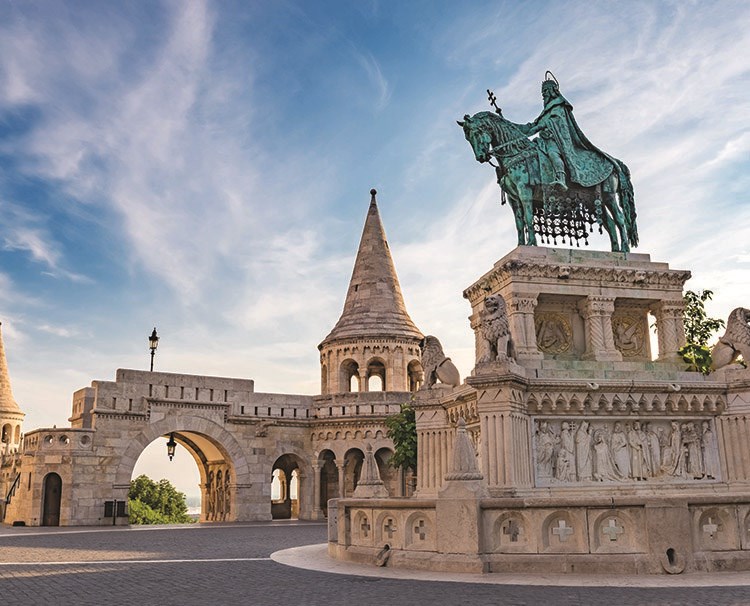 DAY 3
BRATISLAVA, SLOVAKIA
Enjoy a scenic cruise to Bratislava, arriving early afternoon. You will have a choice of two tours, a "Communist History" tour or a walking tour of the city's major sights, including the Old Town Hall, Mirbach Palace and St. Martin's Cathedral. The rest of the afternoon is free to shop or explore on your own. (B,L,D)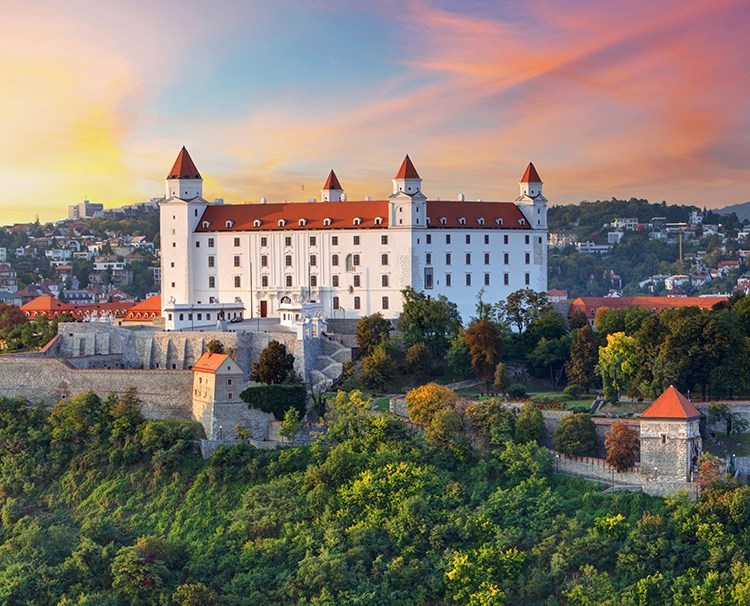 DAY 4
VIENNA, AUSTRIA
Savor the sights of romantic Vienna during your guided sightseeing tour this morning, including the Vienna Opera House, the Ringstrasse, and St. Stephen's Cathedral. The afternoon is free to explore on your own. As an alternative, join an optional excursion to the Imperial Schönbrunn Palace. Tonight, explore the vibrant Austrian capital on your own, or go see an optional Mozart and Strauss concert. (B,L,D)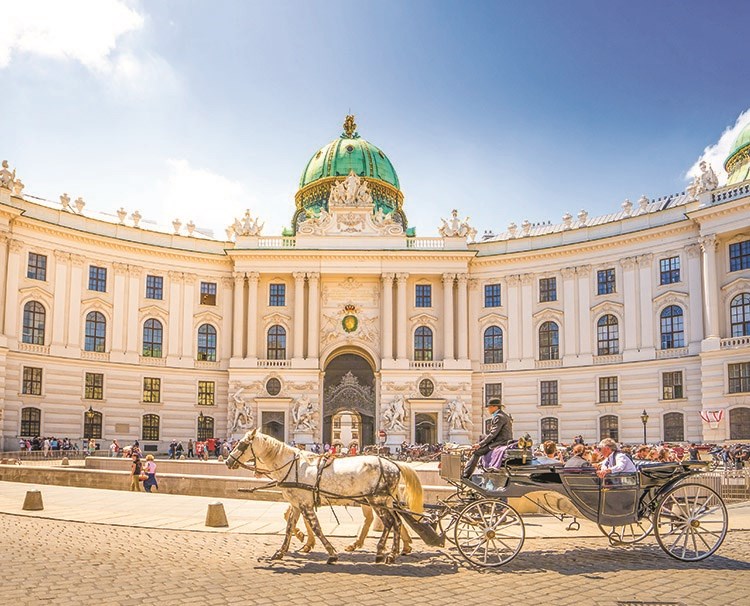 DAY 5
DÜRNSTEIN – MELK
Reach the Wachau Valley early this morning. Stop in Durnstein, a charming town with a magnificent blue Stiftskirche, and take a walking tour down medieval cobblestone streets past 16th-century town houses and wine taverns. High above the town, you will see the ruins of a castle where Richard the Lionhearted was once imprisoned. You will also enjoy a wine tasting of several different wines. After lunch, the ship will cruise to Melk for a guided tour of the town's Benedictine Abbey, one of Europe's largest baroque monasteries and the inspiration for the novel The Name of the Rose. (B,L,D)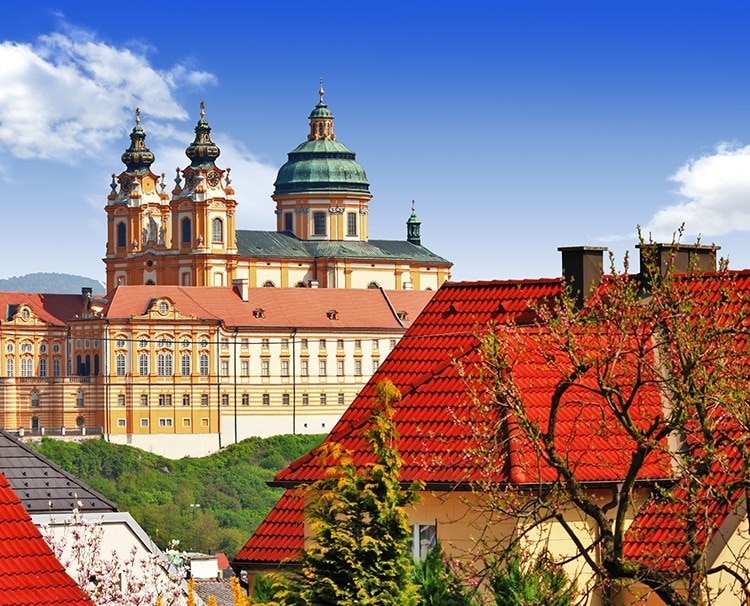 DAY 6
LINZ – PASSAU, GERMANY
This morning the ship arrives in Linz, where you will have a choice of two different excursions. The first choice is an optional excursion to Salzburg, where you will take a walking tour of the historic center, famous as the setting for "The Sound of Music" and as the birthplace of Wolfgang Amadeus Mozart. The tour also includes a visit to the Mirabell Gardens, Salzburg Cathedral, Mozart's Square, and much more. The alternative is to remain on the ship as it cruises through scenic Upper Austria to Passau, a 2,000-year-old city noted for its Gothic and Italian Baroque architecture. A late afternoon walking tour of Passau will take you along the cobblestone streets of the Old Town, where you will see the old city fortifications and St. Stephan's Cathedral, home to the largest pipe organ in the world. (B,L,D)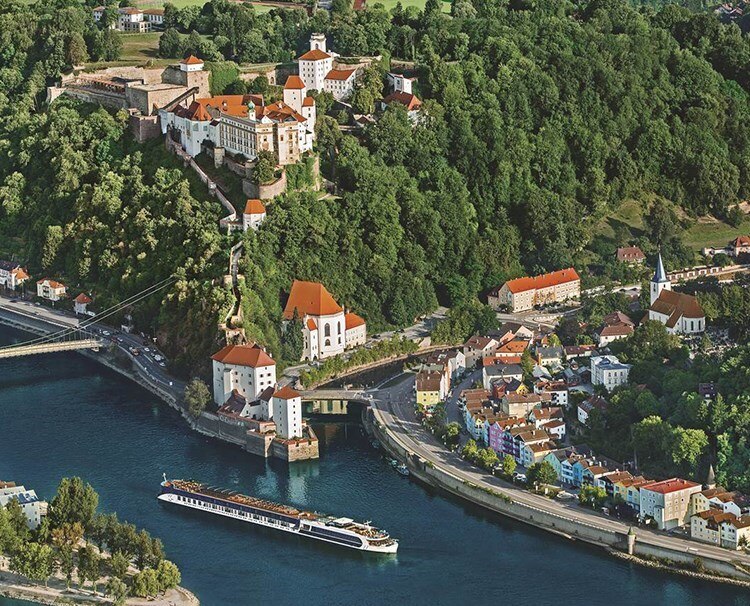 DAY 7
REGENSBURG
Early this afternoon, arrive in Regensburg, one of Germany's best-preserved medieval cities. A guided tour will show you the city's architectural highlights, including the Old Town Hall and the Porta Praetoria – gates to a Roman fort built in 179 AD. As an alternative, visit the Audi Factory in Ingolstadt, where a member of the Audi team will take you on a guided tour of the Audi Car Museum or the production line (subject to availability). (B,L,D)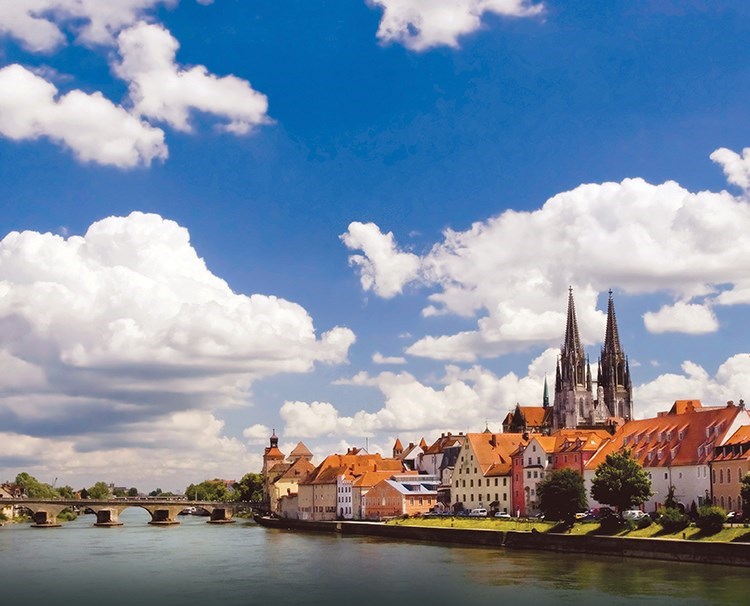 DAY 8
NUREMBERG
This morning, enter the Main-Danube Canal and relax during a leisurely cruise through the beautiful Altmühl Valley. The Main-Danube Canal traverses the Franconian Alps via 16 locks, truly a marvel of modern engineering. In the afternoon, you may opt to take a "Medieval Nuremberg" tour to see the storybook 900-year-old ramparts that surround this historic city and the Imperial Castle, or join the "WWII" tour that visits the Zeppelin field where Hitler held his Nazi rallies and the Justice Palace where the War Crimes Tribunal sat in 1946. (B,L,D)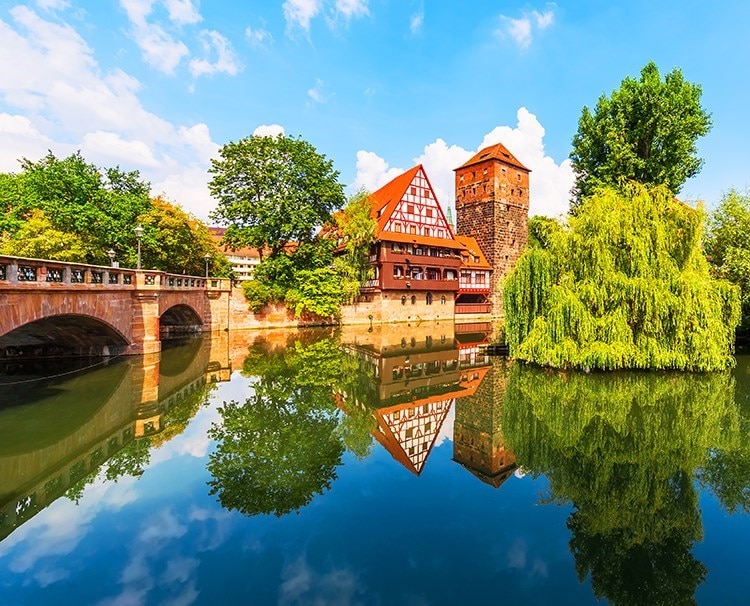 DAY 9
BAMBERG
Enjoy a morning walking tour of the enchanting town of Bamberg, declared a UNESCO World Heritage Site in 1993. See the Cathedral, the Old Town Hall that straddles the river, and explore serpentine streets lined with charming houses. Sample some of Bamberg's famous smoked beer before continuing your cruise to Wurzburg. (B,L,D)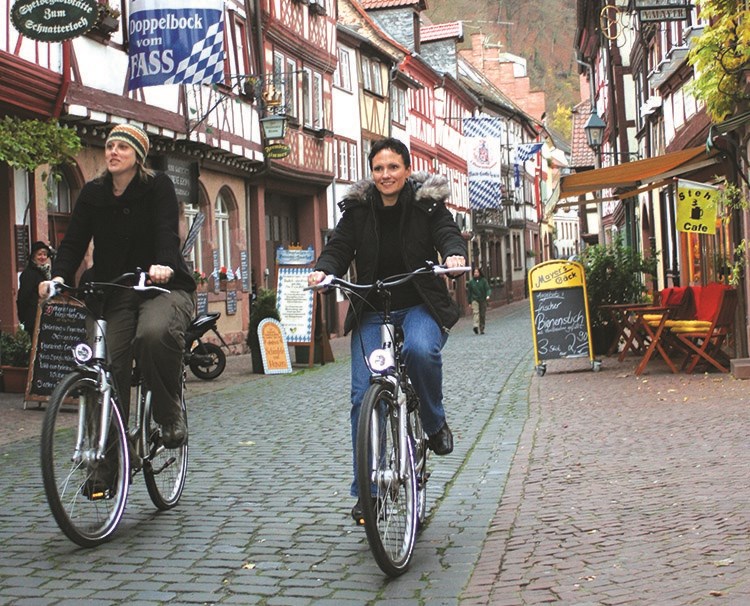 DAY 10
WÜRZBURG – KITZINGEN
Today take a guided tour of Würzburg showing you all of the major sights or visit the Residenz Palace and gardens, a designated UNESCO World Heritage Site and one of Europe's best examples of Baroque architecture. You might also enjoy an optional excursion to medieval Rothenburg, a beautiful walled city situated on the Romantic Road. Your walking tour includes entrance to the Käthe Wohlfahrt Christmas Museum. Your evening walking tour of Kitzngen includes the city's famous 13th-century Leaning Tower, the Old Main Bridge, Kitzingen Church, and the Renaissance-style Town Hall. Later, the Aulic Council and Wine Queen will welcome you to Germany's oldest wine cellar for a tasting of several different wines and an overview of wine production in the region. (B,L,D)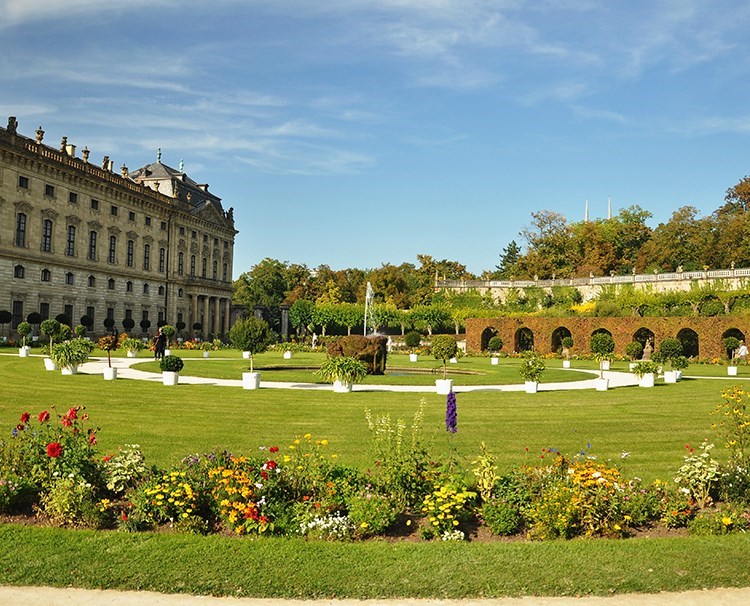 DAY 11
WERTHEIM – MILTENBERG
This morning, you will have a walking tour of Wertheim, a town that has retained much of its medieval charm and character. The ship will depart for Miltenberg during lunch, arriving early evening for a brief walking tour along cobblestone streets lined with steeply gabled, half-timbered houses. Later, the ship leaves Bavaria and the Main River behind. (B,L,D)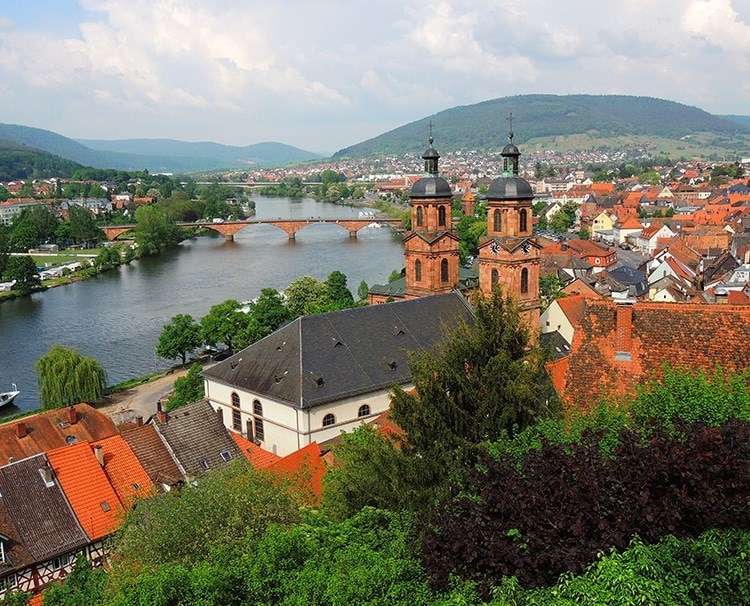 DAY 12
RÜDESHEIM – KOBLENZ
Arrive in Rüdesheim shortly after lunch and take a mini train to visit Siegfried's Mechanical Musical Instrument Museum. Explore the Drosselgasse, a narrow alley lined with wine taverns and restaurants during your free time. Later this afternoon, your ship departs for Koblenz, cruising through the legendary Rhine Gorge, a stunningly beautiful stretch of the river with many imposing castles. Arrive in Koblenz in the evening and enjoy a walking tour through this charming town, lead by your Cruise Manager. (B,L,D)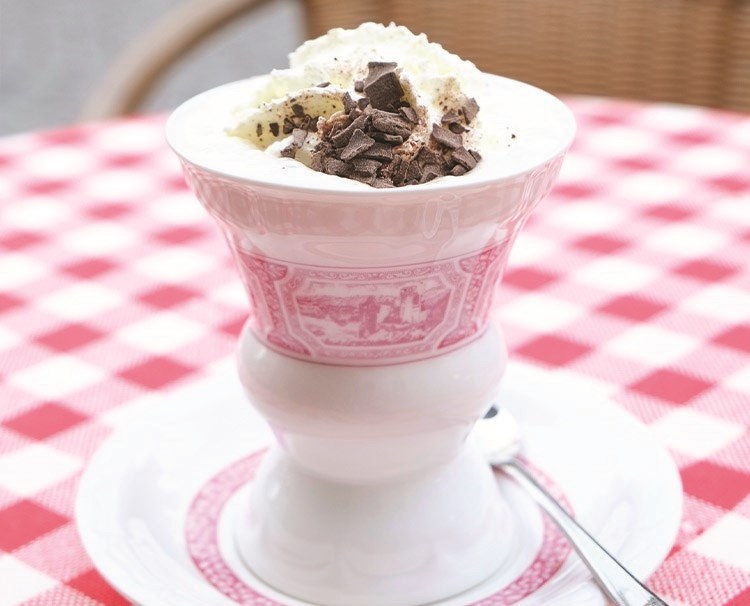 DAY 13
KOBLENZ – COLOGNE
The ship cruises to Cologne this afternoon, where you will have a walking tour through the old part of the city and visit the fabled 13th-century gothic cathedral. You will have ample free time here to shop for souvenirs, linger in the cathedral, or explore the city on your own. The ship departs tonight for Amsterdam. (B,L,D)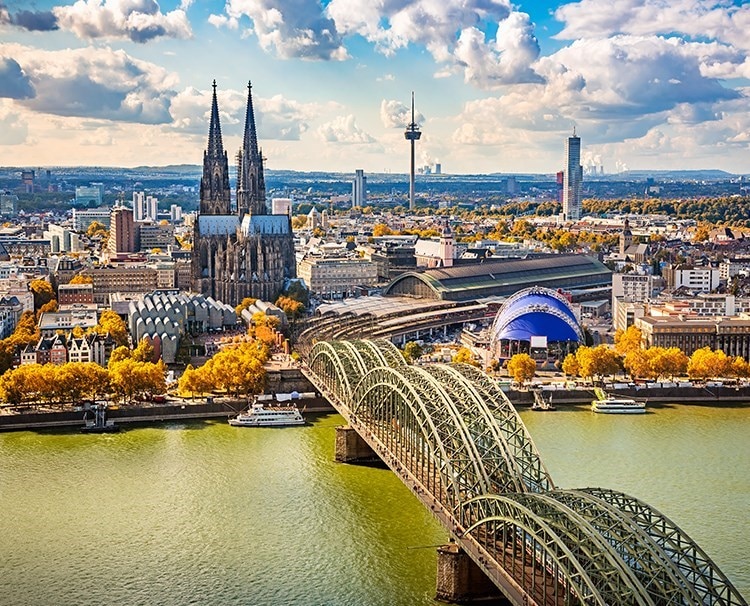 DAY 14
AMSTERDAM, HOLLAND
After arriving in Amsterdam early this afternoon, you will have a scenic canal cruise through the city known as the "Venice of the North." See the beautiful homes that line the water, the fabled Skinny Bridge, and the famous house where Anne Frank and her family once lived in hiding. Later, you will have a panoramic city tour of Amsterdam, including a photo stop at a windmill. Afterwards, enjoy some free time to explore on your own before returning to the ship. (B,L,D)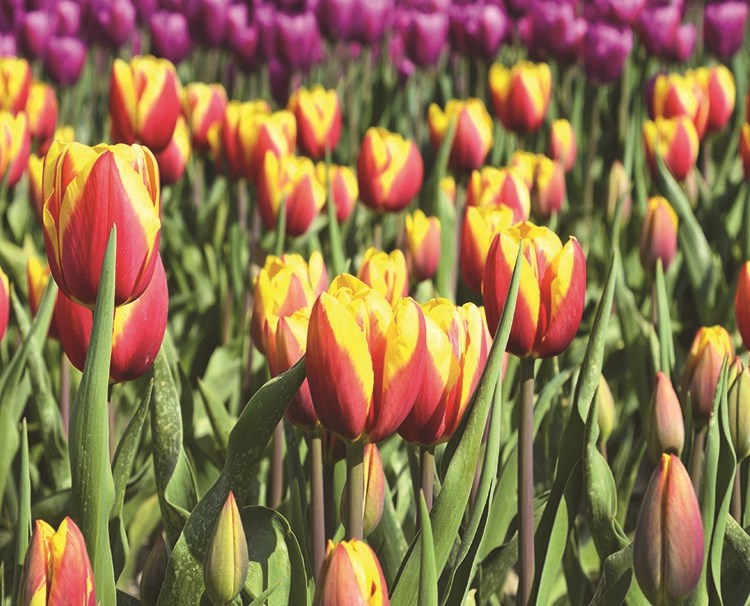 DAY 15
DISEMBARKATION – DEPART AMSTERDAM
Bid Farewell to Amsterdam and prepare for your homeward flight. (B)